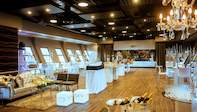 What makes your product launch event a success, is it the people, the place, the organisation or the freebies? In truth it's all of the above and more, however there is no particular formula to guide everyone.
Strategy Guide For a Successful Product Launch Event
There are many product launch websites, books and down-loadable guides to trawl through, all promising success but two factors stand out - a good team and a well thought out plan.
This comprehensive product launch guide
will also help to make your product launch event a success. Crafting a successful product launch event is an art and a science. To alleviate extreme pressure there has to be enormous attention to detail and timely delegation.
If your product launch event team is inexperienced, ensure that you hire a successful professional to guide the process or choose an exceptional product launch venue for guidance, great service and ability to put on a successful show.
Siyabona Conferencing and Incentive Travel has the skills and buying power to source the perfect venue and handle every aspect of your product launch event.
Devise an imaginative and memorable promotional campaign for your product
Successful marketing is critical, both internally and externally. Collaborate with all product launch stakeholders for a seamless and dynamic delivery in a novel way; this applies to media liaison as well.
Have specific product launch event objectives
Know what these are when you want to create an inspirational and motivational live product launch event. Ensure there is a good mix of services and expertise to meet these objectives successfully:
Have a disciplined process
Decide on the desired ambiance and decor, also who cleans up?
Any themes must be consistent throughout and relevant
Arrange quotes and get them approved in line with the budget
The better the venue the less time and expense needed
What will the venue accept e.g. decor; entertainment; technology
Find suitable entertainment of note: preview and cross reference
Entertainment can be people, places and objects
Understand and apply the drinks budget: always have enough
Pick suitable food e.g. no-mess foods while mingling; vegetarian options
ALWAYS check the latest weather forecast and have back-up plans
Arrange quality photographers and related services
Do have innovative free gifts and promotional packs ready
Co-ordinate accommodation and transport if needed, well in advance
Meet and greet VIP's on arrival: know who should go where
Presentation is everything right down to name tags and table cards
Analyse product launch event technical requirements
Do not underestimate this point. Well managed technology is fundamental to any successful event and is the bedrock around which valuable resources and time is released for other creative endeavours:
Undertake a site evaluation, cross reference to entertainment needs
Oversee technical management and installation
Establish audio, video, lighting, scenic design and construction needs
Plan satellite and web cast productions
Organise PowerPoint and creative graphic design
Arrange the install and take-down services