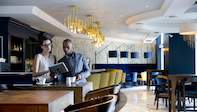 Attending a conference can be exhilarating - new information, new people, new places and a new routine, which is where the wheels often come off! Make an effective conference plan so you don't exhaust yourself on long conferences.
Conventions can seem like a golden opportunity to take time off work and escape your daily routines - you don't have to cook, clean or commute. Your mind is filled with what you could learn and all the social events on offer and you overlook the essentials on how to get the most out of a long conference.
Basics pitfalls like jetlag, not eating properly and lack of exercise can snowball at long events causing
depleted energy, poor concentration
and digestive troubles. These issues could also stay with you for some time after you're back at home! It is worth being pro-active and getting a survival conference plan together in advance of the event.Why is it important to get this right? You need to be in control and motivated in order to make a good impression. Apart from gathering information you are also networking with peers, customers and potential employers. Make sure you look good,
feel good and behave well
- you are never "off duty". A personalised conference plan will give you confidence when you are out of your comfort zone.
Tips For Your Personal Conference Plan
Assess the conference programme thoroughly
in advance and highlight the sessions you want to attend. Work out which sessions will boost your career and make sure you give yourself time to get to them and find a seat (in case it's a popular session). Research topics so you are well informed when it comes to group discussions or networking - ask questions and participate.
Make sure you take clothing that is comfortable and appropriate.
You could end up standing for long periods of time or walking endless corridors to get to various venues, good shoes are essential. Do research on the venue and its layout, so you have an idea of what to expect. Find a suitable bag to carry your notes and belongings around the centre.
Stay as close to the conference venue as possible
for convenience and to save a lot of travel time. This will be a popular choice for many and could provide excellent networking opportunities. To recharge your batteries in between meetings, you can get to your room quickly to refresh, take a nap or just put your feet up - really an invaluable asset on long conferences.
Make sure that your conference hotel room has a small fridge.
As soon as you can, stock up with healthy snacks from a nearby store. Good choices include
fresh fruit, dried fruit such as dates
, apricots and figs, small tubs of plain yoghurt, protein bars which include nuts and seeds such as raw almonds, walnuts, sunflower or pumpkin seeds. Pack a selection of goods for each day as a pick me up.
A good conference plan includes some exercise each day.
Sometimes walking around the conference centre is enough - but for a scheduled work out, the fitness centre is best, although it may be crowded at peak times. Pick a quieter time so you don't miss out.
Don't attend sessions just for the sake of it.
Pace yourself by going for the ones that are important and let the rest go. You can also link up with a conference buddy - ask a professional colleague to collaborate on what there is to learn and swop information on sessions which you attended.
Drink plenty of water.
An essential part of any conference plan, it is most important to hydrate your body and mind which will in turn enhance your creativity, focus and enthusiasm. Limit caffeine intake - using coffee to keep you going will only increase your appetite and send your heart into overdrive, leaving you jittery and unable to sleep properly. Be strict with regard to fizzy sweet drinks and alcohol also.Sit nearest the exit door or in an aisle seat. On long conferences this gives you the chance to slip out and
stretch your legs every half hour
to avoid numbness and cramps.
Take a brisk walk
along the venue corridors or around your conference hotel - sunshine is a natural energiser, so get out in the sunshine whenever you can. Treadmills are also useful for getting oxygen round your body. Just 15 minutes a day of exercise will help keep you focussed and increase stamina for long days and social events. Even gentle stretching will help to avoid the 4pm slump.
Watch what you eat, this is vital for conference plan.
Conference snacks and meals will often include rich desserts, cakes, muffins, cookies and breads. A little may seem harmless, but the temporary rise in blood sugar and energy will subside dramatically an hour or 2 later, resulting in lethargy, mental fogginess and the urge to sleep. Avoid fried food to improve digestion and don't have a heavy lunch if you have a heavy afternoon.
Have sufficient business cards
in your conference hotel room and replenish your daily supply. Carry your cards on you or keep them on hand, as you will meet many new acquaintances on long conferences. Likewise, tactfully collect cards from others for later follow ups, and make a note on the reverse of any useful information.
Purchase DVD or CD recordings of sessions
. This will save you having to make copious notes of every detail; you can just focus on key points on the day and then go over it again later at leisure, to reiterate what you learned.
A good conference planning resource that lays the foundation needed in order to plan, direct and host a successful conference, meeting or event....
more