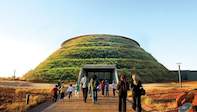 Choose a venue that is different or unique to stimulate delegates and increase productivity - attendees will greatly appreciate a departure from characterless, stuffy environments.
The secret to hosting conferences in unusual venues is always access. Conference organisers will need to analyse the ways in which delegates will arrive and depart from the venue, if this is overly complicated or awkward, attendance will be limited. Issuing clear, concise directions for independent travellers is essential. Alternately, group travel arrangements can be made to transport attendees to the conference venue.
Be sure to read 'Related Topics' at the end of this article
Conference venues can be a series of interesting rooms, have a clever or quirky theme running through them and even be located outdoors which is a great morale booster. Natural light, fresh air and scenic surroundings will enhance a 'feel good factor' for attendees. A destination rich in culture, history, adventure, wildlife or scenery could be the perfect backdrop.
Conference organisers can take the target audience to the venue and go for an unusual location. This option may require a higher budget, but with careful event planning, could be a resounding success for all.
Not everyone will enjoy the same kinds of activities, so variety is a key factor.
Attendees will view such a conference as a good break from routine and find a sense of adventure in themselves.
Conference on the Move
Train Conference
Modern and steam trains (some with adapted seating) can be hired exclusively for conferences on various routes out of Pretoria, Johannesburg and Cape Town. Established luxury trains with conference carriages travel between Johannesburg and Cape Town, through the Southern Drakensberg (new service) and on other specialised routes.
River Cruise Conference
These luxury vessels can be found on the Vaal River in Gauteng and on the Zambezi and Chobe Rivers on South African borders.
Lake Cruise Conference
The Knysna Lagoon on the Garden Route, Lake Jozini in KwaZulu-Natal and Hartebeespoort Dam near Johannesburg offer great conference cruise destinations.
Sea Cruise Conference
Cruise ships provide a one stop shop for all conference and event needs, everything needed is on board and included in the cost.

Not the Usual Destinations
The conference venues may not be unusual but the destinations are out of this world. Conference organisers will find and immense range of options to choose from and easy travel connections from South Africa.
Talk to a Siyabona consultant to explore your conference options elsewhere on the continent.
Botswana Safari Lodges
See epic contrasts and abundant wildlife, Bushmen of the Kalahari Desert, the Okavango Delta, Moremi Game Reserve, the Makgadikgadi and a mighty confluence of the Chobe and Zambezi Rivers.
Mozambique Resorts and Hotels
Discover endless beaches and friendly people, untouched wilderness, tropical islands with pristine white sands, exceptional diving and snorkelling, warm turquoise waters and exotic seafood dishes - it's all here.
Kenya Resorts and Hotels
Experience the home of the Maasai people, fabulous game viewing and views of Kilimanjaro, The Great Migration and Masai Mara, Garden of Eden landscapes, Ngorongoro and wonderful lake and beach resorts.
Namibia Desert Lodges and Hotels
Dramatic and different, this destination is dominated by 2 ancient deserts and extreme landscapes of red dunes along the Atlantic coast, the Kalahari in the east, the swampy Caprivi in the north and Fish River Canyon (the 2nd biggest on the planet) in the south. See wildlife at Etosha and experience different cultures.
Victoria Falls Resorts and Hotels
One of the most spectacular waterfalls in the world, enjoy a fine English tea and watch the 'smoke that thunders' then take a walk along the chasm's edge and get drenched in the spray. So many adventure activities available in one place, the mind boggles. Zambia is rich in wildlife, river lodges and home of thrilling walking safaris.
Tanzania & Zanzibar Resorts and Hotels
Safari in the Serengeti and see the Great Migration, amazing wildlife and scenery, visit great Rift Valley Lakes and beautiful beaches then sail to exotic Zanzibar - the Spice Island.
Related Topics

Importance of Venue Selection

Match Venue and Theme

Reinforce your Message

Unusual Conference Venues