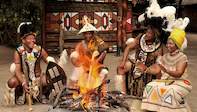 Themed conference venue at Lesedi Cultural Village.
A conference is a great way of creating an image of your company. Your conference venue should match this image and reflect the conference theme or topic, tone and decor for a complete package.
Conference venues can really influence the success of a meeting. You are essentially marketing your company and attracting attention from the public, the media, investors and stakeholders. At the outset, you
Be sure to read Related Topics at the end of this article
Your delegates, whoever they might be, won't want to attend another boring round of talks and workshops in dull city buildings.
Know your target audience
well; think about how they will get to your conference venue, where they will go during breaks, what they will eat and then think about how to make sure they enjoy every minute of the event.Corporate conferences for high flying executives, top level management and international business associates usually take 1 of 2 forms. Time is money, so the most common venues used are
high quality facilities
in the CBD or at excellent suburban establishments nearby.
The other popular option is a 5-star getaway for top executives (and possibly partners) to a unique destination with features that are appealing to upper management.
Exclusive conference venue options include game lodges; golf estates; wine farms; mountain, coastal or island retreats; themed venues like Gold Reef City in Johannesburg and Sun City which is 2.5 hours away; the V&A Waterfront in Cape Town.
Conferences with serious topics should go to highly reputable businesslike or academic venues where there is the least distraction, excellent audio / visual facilities, quality food and drink and discreet décor and service.
Pretoria conference venues are particularly geared to governmental, academic and diplomatic meetings as are Cape Town venues.
Conference organisers can also think creatively and introduce a conference theme which can be adapted to any budget. There are plenty of ideas to consider, but ultimately
the selected theme and its execution
must reflect the host's values and mission statement. Organisers can dress up just about any venue using themed décor, hand out theme related gifts and give delegates fun items to wear.Alternately, the conference can be held in an area or venue which
matches the conference theme
. These types of conferences are particularly interesting to delegates because they often involve going somewhere different and offer new experiences.
Ideas for conference theme destinations
Wine Themes
The Western Cape is the home of wine and brandy production in South Africa. There are about 20 different wine routes to choose from and excellent conference venues in all areas. Routes closest to Cape Town include Constantia, Cape Point, Durbanville, Stellenbosch, Franschhoek and Paarl within a 1 hour radius. Many more wonderfully individualistic routes can be found within a 2 - 3 hour radius.
See Cape Winelands Conference Venues
Safari Themes
South Africa is blessed with every kind of lodge, camp, game reserve and National Park. There are conference venues throughout and options to choose from in all 9 provinces. Even the simplest conference can be enjoyed in the wilderness where delegates can get to know each other around a camp fire and see wildlife at close range.
See Safari Lodge Conference Venues
Adventure Themes
South Africa is brimming with destinations where delegates can enjoy all kinds of activities in between sessions. Popular areas include the Magaliesberg Mountains near Johannesburg, The Mpumalanga Panorama Route near Kruger Park, the
Drakensberg Mountains in KwaZulu-Natal
, the Garden Route and the Cape Peninsula. Just over border, Victoria Falls is an adventure capital of note and a sought after venue.
Gold or Diamond Rush Themes
Gold Reef City in Johannesburg is very popular themed conference venue and has multiple attractions for all ages; also Pilgrim's Rest on the Mpumalanga Panorama Route offers an authentic village and living national monument of early gold rush days surrounded by spectacular attractions; Cullinan Diamond Mine in Dinokeng near Johannesburg and Kimberley, Northern Cape are places to go to relive the make or break days of diamond mining.
Going Green Theme
Choose a
venue that has excellent green credentials
. The list of eco-friendly hotels, lodges, camps and resorts is growing rapidly in South Africa. The Vineyard in Cape Town and The Peech in Melrose, Johannesburg offer great city venues. Award winning retreats include Phinda Private Game Reserve - KwaZulu-Natal, Tswalu Kalahari Reserve - Kgalagadi, Bushmans Kloof Wilderness Reserve - Western Cape, Phantom Forest Eco Reserve - Garden Route.
Sport theme
There are state-of-the-art
Stadium venues in all major cities
in South Africa. These conference venues are easily accessible, multi-purpose and also great for team building exercises for large groups of people in the fresh air. Academic institutions countrywide offer excellent facilities as well.
History or Culture Theme
South Africa has many historic venues, museums and monuments which are currently used for events (Constitution Hill in Johannesburg, the Taal Monument in Paarl, Huguenot Monument in Franschhoek). There are also Cultural Villages with full conference facilities in various provinces (
Lesedi Cultural Village
near the Cradle of Humankind and Shakaland Village on the KwaZulu-Natal North Coast), as well as unique lodges affiliated to the preservation of rare indigenous groups such as the Bushmen (!Xaus Lodge in the Northern Cape).
Tropical Island Theme
There are lots of stunning beaches in South Africa, with 4 out of 9 provinces showcasing
conference venues on diverse coastlines
. Inland, Sun City (near Johannesburg) has a suitably exotic beach and a spectacular Valley of the Waves. Real tropical islands are easy to get to from South Africa, the closest are in Mozambique waters, just a short flight away.
Related Topics

Importance of Venue Selection
Match Venue and Theme
Reinforce your Message
Unusual Conference Venues