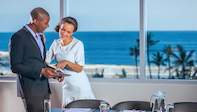 Often the task of managing a conference is given to members of staff who are already busy with their own work. Attempts to balance all the demands can become extremely difficult unless measures are put in place.
There are two options in this regard: appoint a team within your company to spread the load, or consider outsourcing:
Outsource
A professional conference management service
can save your company an immense amount of time, effort and money at the end of the day. This is where
Siyabona Business Travel Services
comes into play. We have the negotiating power to deal with all suppliers and get the best deal. Your conference organisers will then be released to focus on the conference content, budget and overall direction that everyone should take.
Appoint 'A' Team
Preparation should begin early, not less than six months ahead. Create a conference plan and appoint a team of conference organisers. Allocate each person
specific portfolios with deadlines
. Deadlines should coincide with scheduled meetings at regular intervals where tasks are signed off and the next phase implemented. Organise a month by month overview which becomes a weekly and then daily plan as the conference date draws near.
Key Conference Management factors
Conference organisers must match the venue to the delegates
For some attendees, public transport is important and safe access needed. Only
5-star venues will do for executive delegates
. Top gripes amongst delegates the world over include: lack of parking, difficult access, overcrowding of meeting rooms, inefficient climate control or ventilation, expensive food or poor quality and service, lack of comfortable seating areas, accommodation that is too far from the venue.
Everything must be checked, double checked and triple checked.
This should be every conference management team's daily mantra. This also applies to reading all orders, instructions and contracts (fine print).
Good Conference Planning
Delegates like advance notice of each day and social activities on offer. When delegates arrive, conference hosts should be polite and welcoming to all. Organisers must ensure that the venue registration process is quick and efficient. It is essential to meet and escort VIP's and speakers as they arrive and during the event.
Planning & Preparation
Conference Planning with Siyabona
Delegates like good
conference notes with comprehensive information
of where they need to go, when and what is happening on a daily basis. Conference programmes should be diverse with lots of interesting aspects to explore, new ideas or technology, talks, discussions and regular breaks to network.
Audio-visual (AV) equipment and CDs / DVDs
The conference management team should ensure every piece of equipment works properly at the venue and double check it the day before the event. Make sure conference staff
know how to use the equipment
and can trouble-shoot if needed. Ensure all your discs are professionally produced and that they work in the machines provided. Choose the correct microphone system - this issue is more complex than it appears.
The
conference organisers must check
that any ordering systems for products are fully functional all the way down the line to the dispatch unit - make sure you can meet demand if there is an ordering frenzy.
Entertainment / Master of Ceremonies / Speakers
You must check that the entertainer / MC / conference speaker is squeaky clean and politically correct - ask for CV's and contact the references. Personally
interview and audition
each one. Once selected, confirm the booking and get a commitment in writing. Entertainers / speakers will need to be involved in some meetings to fully understand and prepare for what you require. Always have a Plan B for the event in case something goes wrong.
Conference Planning
4 - 6 months ahead: Finalise numbers and contact details of attendees; set budget (including gratuities); inspect and secure venue; create interim agenda; pick a theme; book entertainment, speakers and photographer.
2 - 3 months ahead: Arrange invitations & registration package and send them out; confirm speakers; assess AV requirements & secure provider / equipment; source caterers, florist, beverage supplier; place order for corporate gifts and freebies.
1 - 2 months ahead: Arrange event insurance; check all legal documents; go over all equipment needed for participants; review room set-up, menus, décor and floral then confirm; assemble content of registration kits plus delegate reading matter; review speakers' assignments.
1 month ahead: Go over reception and room set up at venue; confirm guest list and VIP's; arrange welcome packs for delegates at accommodation venues; check all electrical requirements and cabling.
10 days ahead: Update checklist & guest lists; arrange seating plans, numbers and name tags.
1 Day ahead: Review checklist; go over list of duties for all staff; prepare a list of critical contact numbers; check venue is on track and all suppliers are ready; gather delegate kits; check signage; arrange cash for gratuities.
On the day: Arrive with final checklist and extra name tags; set up reception with alphabetised delegate list and kits, also table numbers & name tags; confirm final count for catering; escort VIP's and speakers.
After the conference: Thank You letters / gifts to all suppliers and speakers; de-brief key staff and document feedback on venue, services, topics and speakers; settle all accounts.