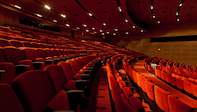 A seamless conference experience is like a movie - one where the audience doesn't take notice of the environment that surrounds them; so wrapped in it they become part of the presentation.
With a wide choice of excellent conferencing venues in Southern Africa, it could be difficult to choose the ideal venue to host your important conference.To make your selection task easier, this website presents venues by capacity, as well as by location. This comprehensive listing of conferencing venues in  South Africa that provides only the finest venues based on service, comfort and style.
In cities many venues have surrounding hotels, meaning that your delegates may be accommodated in several hotels close to the venue, allowing for high delegate capacity..
On game reserves, safari lodges have low capacities. So while one lodge may have the conference facilities, and accommodate some delegates, other delegates will be accommodated at other lodges nearby, on the same reserve.
Style of Conference Venue
Another thing to consider when choosing an appropriate conference venue in South Africa is what exactly you are looking for in a venue. Are you looking for style of accommodation, capacity, extra-mural activities, menus, packages, degree of equipment sophistication?
Your answer to these questions will dictate location and type of establishment.
There are few exotic team building possibilities in a city venue, but accommodating large capacities is easy. Country venues are smaller and more intimate as well as more expensive, and therefore suitable to top level chief executive meetings.
Safari lodges and beach hotels offer very exotic locations and incredible diversity from humdrum city life, but possibly at the expense of exotic technology and capacity.
Selecting by Type of Conference Venue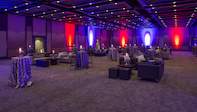 Whilst it may appear to be difficult to categorise all venues, we have provided a
general venue guideline
to identify your basic requirements. Initially we would discuss your expected number of delegates, and your aims, objectives and budget for your conference in order to establish the type of location that is best suited your requirements.
Accommodated Conference Venue
This type of venue is designed for the specific needs of every type of conference. It provides venue management, audio visual technical support, and 8 hour chairs. Refreshments: coffee, tea and spring water are available throughout the conference. Meeting offices, break away rooms and boardrooms are available throughout the conference.
Well suited all business needs with excellent catering facilities. In addition the venue provides rooms incorporating every home comfort as well as internet facilities.
Non-Accommodated Conference Venue
These venues differ from the first in that there is accommodation. The accommodation is offered in one or several hotels within walking distance. These venues generally have larger delegate capacities, and because of their specific design, may more easily cater for product launches and simultaneous presentations.
Country Estate Hotel Conference Venues
Opulent décor, park like surroundings and steeped in History these venues embody all the luxury and ambience associated with a Country Estate. This type of venue is aimed at top level executives and smaller delegate capacities.
The country estate hotel is an ideal for low-key conferences, themed product launches and provides a subdued environment for client entertaining. The nature of these venues means that some audio visual equipment requirements may need to be ordered specifically for your conference.
In actuality, feature bedrooms with four- poster beds, magnificent views across the estate and full leisure and beauty facilities are the main draw card.
City Centre Hotel Conference Venues
These venues in the heart of the city of your choice, as the preferred base for any conference or client function, have the main advantages of close proximity to all forms of public transport, dedicated conference and banqueting managers, audio visual technical support crews, sound and lighting technicians, airport transfers and full leisure facilities offer you, the conference planner, a full suite of services that provide your delegates ease of access and a seamless conference experience.
Exclusive Game Lodge Conference Venues
Executive conferencing, away from it all... Our selection of exclusive Safari Lodges, both in Kruger Park and around South Africa are ideal for high-level corporate executive conferences, seminars or meetings. Here, you are assured of absolute privacy, the best quality service and discreet handling of guest lists.
Conference Planning Considerations
For a detailed account of the topics that you will have to consider for your conference, visit Planning a Conference. Here you will find out how to select a venue, what sort of venue options there are, how to plan transport and equipment requirements.
Plan Early for your Conference or Event
Whether it is because of size, location, convenience, some conference venues are more sought after than others. It cannot be stressed enough that Early Planning and booking is the single most important factor that provides for a successful conference, convetion or seminar.
Find out what you should be doing in our Step by Step Conference Planning
Related Topics