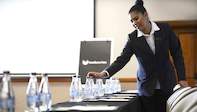 Whether you are hosting a board meeting for 10 or a Conference for 1000, there are a few pointers to consider in making your guests welcome, safe and appreciated.
Personalize the Meeting Experience
If it is to be a breakfast meeting, find out from the attendees if there are any special dietary preferences which you may have to take into account. Do any attendees need a map of directions to the venue if they are from out of town?
Be the Delegate at the Conference
Before your event material is finalized, take some time to slow down and picture yourself as the delegate. Read the conference registration materials: is there something in each time-slot for every target audience type?
Does the confirmation package have what a delegate needs to arrive and navigate stress-free? Walk through your event venue to find the best spots for signage and where to place volunteer helpers.
Let Them Experience
Give foreign delegates the opportunity to experience local cuisine, culture and sites. Arrange city tours or countryside tours of historic or cultural interest. Somewhere famous nearby?
Keep Them Secure
Is the venue's security in-house or on contract? The in-house security team has the benefit of routine, as well as the "lay of the land" and clear knowledge of who is should be where and when.
Keep it "Green"
Select a meeting or event location that is closest to where attendees work. With rising fuel costs, this will be cheaper and less disruptive. Busy professionals prefer not having to spend valuable time in transit.
Give Them a Voice
Engage attendees by allowing them some time and space to express their own ideas and insights.
No One Forgets a Thank You
Follow up directly after the meeting with a personal thank you that includes a mention of several meeting highlights.
A good conference planning resource that lays the foundation needed in order to plan, direct and host a successful conference, meeting or event....
more