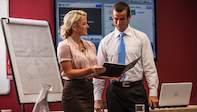 Conference, Event and Meeting Planning Checklists are vital for keeping track day by day and eventually hour by hour, until the by the minute details as the important day finally arrives.
You will need to create a timeline checklist, budget checklist, site inspection checklist, and a whole lot more to have a successful presentation.
Conference Work Timeline
You should begin conference planning several months in advance. When should proposal forms be distributed? When should media publicity be sent out? A planning timeline will be your most important asset.
Conference Budget Spreadsheet
Since planning a conference is actually a business venture to generate a profit, company leaders and employees need to spend time and resources planning their conferences and meetings. A budget form will help guide them through the process of creating, planning, and implementing a budget.
Site Inspection Checklist
What should you look for in selecting the best conference event site?
Make a checklist of what you are going to require on-site.
Venue size, meeting rooms, tables - if it is a banquet, or seating style if it is a presentation. Audio visual and IT requirements. Lighting arrangements. Food and beverages, and much more.
Your budget will determine the venue star rating, Sometimes the location is the focus.
You should include all the important issues and details from the overall quality of the hotel through important issues with lodging rooms, down to delegate transportation
This checklist will ensure Siyabona can help you choose the most suitable conference venue.
Speaker Confirmation Letters
Are you having special speakers to address your conference.
How should your company engage with them and confirm the arrangements it has made with speakers?
Speaker Tracking Chart
You need to efficiently and accurately keep track of your speakers?
How much is each speaker being paid?
How long is each speaker's delivery?
In what order will they be speaking?
Do any of your speakers need transport to and from your conference?
Does any speaker need special presentation equipment?
A speaker tracking chart will prove to be invaluable in the success of your conferences.
Speaker Hosting Etiquette
Ensuring that your speakers' dietary requirements is the first item to consider. After that their transport needs and accommodation. Accommodation should be at or as close to the venue as possible.
Hotel or Venue Call Directory and Hotel Checklist
Who do you get hold of to change a room setup during your conference? Will company volunteers be manning the registration desk. Have you got their mobile numbers?
Who sets up the meeting rooms, and when? A call directory of names and numbers will prepare you for any emergency that could occur.
Conference Notebook Checklist
Get a dedicated conference notebook for the duration?
What type of information will you need to carry with you each day?
This checklist helps you to respond to questions quickly. Know you exhibitors, and even know where the guest speaker is to be seated during dinner.
On the Day
Do Not Rely on your lap-top or Blackberry. Have your information printed out.
That way you are free of the scourge of failed batteries or lugging a laptop around.